Santa Barbara Job Creation*
May 2015
Pawleys Island Preview?
A ruptured pipeline off the Santa Barbara coast leaked an estimated 21,000 gallons of crude oil Tuesday, according to authorities.
The leak was first reported around noon on Tuesday when an onshore pipeline broke, allowing crude to reach a storm drain that empties into the ocean. At least two oil slicks that when combined cover approximately nine miles of the Santa Barbara coast have been identified by the Coast Guard.
Nearby Refugio State Beach was evacuated and officials did not say if the beach would be re-opened in time for the Memorial Day holiday weekend.
The pipeline was built in 1991 by Houston-based Plains All American Pipeline, which said it shut down the flow of oil.
"Plains deeply regrets this release has occurred and is making every effort to limit its environmental impact," the company said in a statement.
The spill occurred along the same stretch of coastline that was decimated in a 1969 spill that helped spark the modern day environmental movement. Videos
The Association of Oil Pipe Lines will meet in Santa Barbara: June 28 – 30, 2015 – CA
Leadership of member companies will meet to discuss current regulatory, legislative and policy issues facing pipeline operators.
*105,000 Gallons Worth of Cleanup Work -
Apply Here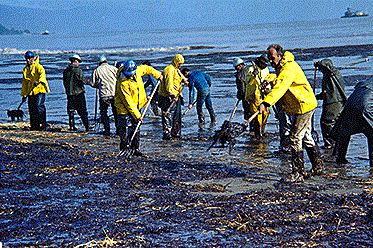 Or, From Another Perspective: