Oil spills in Galveston Bay a routine occurrence
Since the late 90's, Galveston Bay has averaged 285 spills a year.
Government/Industry Collusion Conceal Extent of Decade-Old Leak
"OVER THE GULF OF MEXICO — A blanket of fog lifts, exposing a band of rainbow sheen that stretches for miles off the coast of Louisiana. From the vantage point of an airplane, it's easy to see gas bubbles in the slick that mark the spot where an oil platform toppled during a 2004 hurricane, triggering what might be the longest-running commercial oil spill ever to pollute the Gulf of Mexico.
Yet more than a decade after crude started leaking at the site formerly operated by Taylor Energy Company, few people even know of its existence. The company has downplayed the leak's extent and environmental impact, likening it to scores of minor spills and natural seeps the Gulf routinely absorbs."
"Shortly before noon on March 30,a storage tank on a platform in the northernmost lobe of Galveston Bay began overflowing because of an equipment malfunction. At least 160 gallons of light crude oil poured into the water and spread to nearby marshes.
The incident mainly occurred in the background, as attention was focused on a larger problem across the bay, where crews were in their ninth day of cleaning up nearly 170,000 gallons of heavy oil spilled by a punctured barge.
The one-two punch underscores a depressing truth about these blue-collar waters: Oil spills happen almost every day."
"Victims of the 2013 rail disaster in Lac-Mégantic, Quebec have reached a major financial settlement with the railway involved.
A U.S. lawyer who worked on the wrongful-death lawsuits says $200 million dollars will be distributed in settlement funds to families of those who died as well as other parties involved in the legal battle.
Peter Flowers told The Canadian Press he expects the money to start flowing this summer, although the compensation package must still be approved by courts on both sides of the border.
Three other companies — World Fuel Services, Canadian Pacific Railway and Irving Oil — have yet to contribute.
"We will turn over every stone on earth before we give up on them and intend on pursuing them in Illinois and any other state to ensure they're brought to justice and held responsible for this disaster,"
(CNN)A train hauling crude oil derailed and exploded in West Virginia, displacing residents and threatening the local water supply.
At least 26 of the train's more than 100 cars veered off the tracks, the West Virginia Department of Military Affairs and Public Safety said, and at least 19 of the derailed cars caught fire.
One home was destroyed, and one person was injured, agency spokesman Lawrence Messina said.
Complicating matters, oil from the CSX train spilled into the Kanawha River, a source of drinking water in Kanawha and Fayette counties. Even parts of the river caught fire amid the explosions, Messina said.
At least two water treatment plants shut down Monday night as officials investigate how much oil may have spilled into the river, CNN affiliate WSAZ said. About 2,000 people were at risk of losing water service. But Tuesday afternoon officials said testing showed no crude near a water intake valve near one plant. WSAZ reported the intake was 3 miles downstream from the spill.
Lac-Mégantic rail disaster:

$200M proposed settlement reached
Train derails, explodes in West Virginia; crude oil spills into river
Revealing Oil Articles
Some newspaper and magazine articles capture such essential truths about Big Oil and Big Goverment's predatory energy practices that they shed a bright light on what might otherwise be a head scratcher. Others reveal long-burried facts. Still others synopsize a wealth of information in digestible ways. Combined, they demonstrate that, like it or not, we are the targets of a vast misinformation campaign.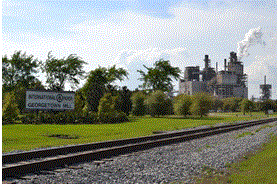 Multiple national, state and local agencies were contacted after a chemical known to be toxic in high doses exceeded legal limits from International Paper's Georgetown mill in late March, an investigation by The Georgetown Times has learned.
According to a report from the U.S. Coast Guard's National Response Center, 106.2 pounds of methyl mercaptan were released from the Georgetown mill on March 27 at around 5 p.m. due to over pressuring.
The legal reportable limit for this substance is 100 pounds. International Paper self-reported the incident to 15 agencies, including the Centers for Disease Control, Environmental Protection Agency, U.S. Coast Guard, South Carolina Emergency Management Division and the South Carolina Department of Health and Environmental Control.
"Our mill determined that we were out of compliance with certain discrete air emission limits for methyl mercaptan for a very limited amount and period of time on March 27, 2015," said Jerry Eisenband, communications manager for the Georgetown mill. ..
Eisenband declined to comment on how many, if any, employees or members of the public were exposed to the chemical during the release. He also declined to comment if International Paper used any means to inform the public – other than the required reports to various government agencies – of the release and what to do if someone had been exposed.
"Methyl mercaptan is released from decaying organic matter in marshes…. It is manufactured for use in the plastics industry, in pesticides, and as a jet fuel additive. It is also released as a decay product of wood in pulp mills," the toxicology report states.
According to that report, very little is known about the health effects of methyl mercaptan.
Agencies confirm chemical release at International Paper
'A Deaf Whale Is a Dead Whale': Sound Blasting for Oil Threatens Marine Life Kristin Butler
4/15/15
BOOM! BOOM! Each blast, 100,000 times louder than a jet engine, reverberates through the ocean, slamming against the hearing apparatus of hundreds of thousands of sea creatures.
"Think about dynamite going off in your neighborhood every ten to twelve seconds for weeks or months on end," said Michael Jasny, director of the marine mammal program at the Natural Resources Defense Council (NRDC), to Indian Country Today Media Network.
This is what oil companies are attempting to do in the name of offshore exploration. The Obama Administration is currently reviewing nine applications for seismic surveys to look for oil and gas deposits deep below the ocean floor in the Atlantic, from Delaware to Florida, risking the lives of nearly 140,000 marine mammals.
Seismic testing involves the use of sonic cannons to shoot compacted air to the ocean floor, creating sound waves that map oil and gas reserves in the seabed. Exploration would involve blasts every 10–12 seconds in areas for weeks or months on end, totaling more than 20 million seismic shots over a multi-year period.
The sound waves from these dynamite-like blasts are expected to injure and possibly kill 138,500 whales and dolphins along the East Coast and "disrupt vital marine mammal behavior more than 13 million times," states a U.S. Department of the Interior (DOI) assessment.
MORE ON SOUND: A Bioacoustician Speaks Out
Regarding Grand Strand elected official's "wait and see" approach to offshore fossil fuel development: Despite Councilman Mark Lazarus' opinion that scientific evidence of seismic survey harm to fish is "just science," there is a preponderance of evidence that seismic surveys compromise marine mammal and invertebrate survival success as well.
But let's just say that this doesn't matter, and that the continuous low-level leaks and small chemical and drilling mud spills found around offshore oil operations don't really constitute "a major oil spill," and we go ahead and industrialize the ocean anyway.
What will happen is that the dynamically-positioned drilling platforms, seafloor-mounted high-pressure industrial separators and re-injection pumps, acoustical marine navigation aids, and a whole cadre acoustically controlled robotic equipment will turn the outer continental shelf oil fields into a roaring, screaming, screeching, and pinging factory floor.
While there is no evidence that adding this industrial noise to the ongoing seismic survey noise will damage fish (or other marine life), the evidence is only lacking because there have been no studies. Should we "wait and see," we will find out eventually — the hard way. Michael Stocker, Dir. Ocean Conservation Research, Sun News 4-25-15
US oil and natural gas rig count drops by 22 to 932
THE ASSOCIATED PRESS
04/24/2015
Oilfield services company Baker Hughes Inc. says the number of rigs exploring for oil and natural gas in the U.S. declined by 22 this week to 932 amid depressed oil prices.
Houston-based Baker Hughes said Friday 703 rigs were seeking oil and 225 explored for natural gas. Four were listed as miscellaneous. A year ago, 1,861 rigs were active.
Among major oil- and gas-producing states, Texas lost 19 rigs; North Dakota lost five; Oklahoma was down three; and Alaska, New Mexico and West Virginia each lost one.
Louisiana gained two rigs, while Arkansas, California, Colorado, Kansas and Pennsylvania each gained one. Ohio, Utah and Wyoming were unchanged.
The U.S. rig count peaked at 4,530 in 1981 and bottomed at 488 in 1999.
The Gulf: Still at Risk
04/23/2015 10:45 AM
Myrtle Beach Online.com
It is hard to forget the flailing efforts by both industry and government to stop the runaway well in 2010, including the failure of the blowout preventer and the preposterous "junk shot" attempt to jam golf balls and shredded tires down the gushing well. New rules will be crucial going forward, especially in inhospitable environments like the Arctic and as oil companies move further and further offshore to deeper, higher pressure waters. It would be foolish to assume that another disaster won't happen. But surely it's possible to be better prepared for it.
Another benefit, requiring follow-through, is that the penalties BP will have to pay in restoration money may finally give the Gulf's fragile ecosystem the long-term care it needs, especially its wetlands and barrier islands. Over the years, oil and gas companies have sliced and diced Louisiana's forests, coastal marshes and mangrove swamps with more than 10,000 miles of canals. This, combined with years of misguided flood control along the Mississippi River, has already cost Louisiana 2,300 square miles of wetlands, with more erosion every day.
BP has already shelled out just over $30 billion, mostly in cleanup costs, damage claims from individuals and businesses and about $700 million in early restoration projects. But more will be arriving: several billion for natural resources damages, and as much as $13 billion in penalties under the Clean Water Act for the 3.19 million barrels of oil that a federal judge in New Orleans has now determined BP discharged into the gulf. Read more here:
DRIVE TO DRILL: Energy lobbyists behind governors' crusade for Atlantic oil
By Sue Sturgis
Drawing on thousands of pages of documents obtained through public records requests to the offices of Gov. McCrory and other officials, Facing South has uncovered new details about the Governors Coalition and its close but largely concealed ties to HBW Resources, a corporate lobbying and public relations firm representing some of the nation's biggest energy interests, and the company's sister group the Consumer Energy Alliance, a "dark money" nonprofit organization that doesn't have to disclose its backers. Our findings add to previous details about the groups' connections reported last year by the Center for Public Integrity.
For government ethics watchdogs, the unusual relationship between the Governors Coalition and oil and gas industry representatives raises troubling questions about transparency, the blurring of lines between public and private interests, and who is driving the national debate about offshore drilling.
"The until-now hidden connection between energy interests and the Governors Coalition illustrates how big money all too often calls the tune in today's public policy debates," says Common Cause President Miles Rapoport. "Unfortunately, it appears these governors have surrendered their independence and are providing a front for the energy industry's drive to expand drilling for offshore oil and natural gas."
According to OpenSecrets.org, the industry more than doubled its campaign contributions to federal candidates from the 2010 to the 2012 election cycle to more than $70 million. Oil and gas companies also dramatically expanded their independent or "outside" political spending following the U.S. Supreme Court's 2010 Citizens United decision, from about $2.5 million in 2010 to almost $18.9 million in 2014. The industry's spending on electing sympathetic lawmakers was complemented by more than $141 million spent on federal lobbying in 2014 alone. FULL ARTICLE
Corpus Christi -Lightning strikes oil tank, causing explosion near Banquete 5-13-15
Firefighters are on the scene of an oil tank fire out near Banquete.
The flames are growing larger by the minute. It's happening at FM 666 and County Road 83, north of Banquete. There are homes nearby. According to a worker out there, lightning struck the tank and it exploded, causing the large fire. It happened just after 7:30 a.m. Crews are trying to find a valve to the oil tank to shut off the oil and stop the fire.